Making sure medical equipment is in compliance
George Landauer
All long-term care and other healthcare facilities should have a proper Medical Equipment Management Program in place. With budgetary issues, staff cutbacks and decreasing reimbursements, many facilities choose to avoid this expenditure. But this is a failure to recognize that it is a matter of good risk management, as well as being both a regulatory and accreditation compliance requirement.
Hospitals today typically have their own in-house biomedical engineers to service, maintain and inspect their equipment. Long-term care facilities do not have, or even need, an entire Biomedical Engineering Department, but they are still required to have their equipment properly maintained and tested. Otherwise, residents can be in danger.
The lack of ongoing preventive maintenance of medical equipment increases the risk of potential injury to patients or staff members caused by defective equipment. Lawyers could easily argue "negligence" lawsuits against facilities, administrators and operators, for not "properly maintaining" their medical equipment. One example was in McKnight's this fall. Most accrediting organizations such as The Joint Commission, AAAASF, HFAP, CHAP, CARF, and even the DOH, to name a few, require proper maintenance as indicated in their accreditation guidelines. While some refer simply to "properly maintaining" equipment, others such as TJC, are quite specific regarding the requirements.
So what is the generally accepted standard? The requirement for equipment maintenance comes from the National Electric Code (NEC), NFPA-99; chapter 10 of the Health Care Facilities Code. Organizations such as AAMI, ECRI and ASHE have helped develop the standards that are in use today.
As part of an Equipment Management Program, a qualified technician or engineer must periodically inspect equipment. Some of the key factors are electrical safety, proper operation, routine maintenance, calibration and performance testing. In addition to the periodic inspections, all equipment must be inspected prior to being placed into service and after any repairs. All of these inspections must be properly documented. A comprehensive program would include the proper documentation of the routine maintenance and repairs and it would include asset control numbers and safety stickers indicating the date of next inspection. It is important to note that all equipment must be tested and documented, regardless of ownership (i.e. facility owned, leased, borrowed, etc.). The burden is on the facility, not the equipment provider.
The cost of having an ongoing program is far less than the costs and risks of not having one. While accidents can happen due to equipment failure; a safety program establishes a reasonable defense against negligence. Why risk the potential of lawsuits, higher insurance premiums, negative press, or regulatory deficiency citations?  An Equipment Management Program helps your facility create a safer environment. Proper management can improve the cost-effectiveness and utilization of your equipment by reducing downtime and minimizing equipment failures.
George H. Landauer is President and CEO of GDC Medical Electronics in Plainview, NY. He is a Certified Clinical Engineer (CCE) and holds a BS in Electrical Engineering and an MS degree in Industrial Management.
Choosing a medical equipment service provider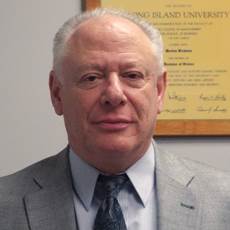 Morton Beckman
Alarms sound or warning lights go on. You realize that continued use of this equipment will lead to more extensive damage or possible breakdown and eventual replacement. As the nursing home administrator you will have to decide whether to repair or replace the item. With the assistance of a reputable service company these timely decisions are no longer a major headache.
In dealing with medical equipment, it is crucial to be alert for signs of malfunction. Your resident's health and safety may be at stake. Are your infusion pumps not delivering the proper amount of medication or nutrition to your patient? Do your patient lifts have worn parts and are hazardous when lifting or moving a patient? Are your scales calibrated properly, or are your patient's weights inconsistent?
The company you use should be able to assist you when considering whether to repair or replace the item. Most of us are aware of many service providers. As a former healthcare administrator I chose my medical equipment service provider cautiously and deliberately. Price alone cannot be your main consideration. I suggest you consider the following, when choosing a service company.
Do I have enough personnel to cover service and support functions?
Who do my fellow administrators use?
How long has the company been in business?
What are the educational and skill levels of the technical staff?
How much insurance does the company carry and what type?
How broad-based is their repair capability? Do they specialize in only one type of equipment or can they repair a wide variety of equipment?
How long do they warranty their repairs?
Can I visit their repair depot?
Will they provide me with references?
Can I reach ownership or management should the need arise?
There are more items to consider. Payment terms, turnaround time and the background of ownership and management should be investigated.
You are entrusting your valuable assets to a third party, not to mention your resident's safety. The more you know about this company, the greater should be your degree of comfort.
We find that our greatest source of new business is our highly prestigious client base. Not only are we a repair company but we also provide preventive maintenance and safety inspections that meet the requirements of all regulatory and accrediting agencies. Proper documentation is always provided to our clients.
Anyone can start a business. Some financing and a little space can launch a new company. Small start ups appear all the time. Some work out of their homes, others are "virtual companies" that could be established without any physical location. In most instances the virtual company is home based with little to no overhead.
Over the years we have seen shoddy workmanship, poorly performed repairs, and numerous pieces of equipment, that while having current safety inspection stickers on them, had months if not years of dust, dirt, mold and clogged filters inside.
Here is a case in point. Recently we were called into a facility to pick up a quantity of oxygen concentrators. When we opened them up in our shop, we found inspection stickers from two previous companies and filters that were last changed in 2006. Air could barely flow through them. Imagine the quality and quantity of oxygen that the patient was breathing! The facility was paying for PM inspections that just weren't happening. Even a non-technical person can draw the conclusion that a sticker was just placed on the item with no inspection, testing or calibration ever performed.
In conclusion, choose a company that has a track record of serving your industry. Longevity speaks volumes and over time your vendor will be there for you and stand behind their work. Unfortunately the above case is not an isolated incident. Choose your service provider carefully and only after you have received satisfactory answers to the questions above.
Morton Beckman is the director of operations at GDC Medical Electronics™, an ISO located in Plainview, NY. He is a former hospital administrator.